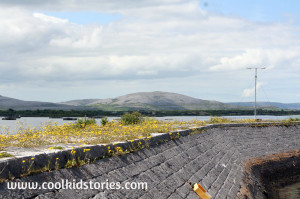 This is where I share news about projects I am developing or about to publish. I am always kept busy writing for my Ballyyahoo series and I get new ideas for this every day. To be honest I wish I had as much time as I have ideas because since I have come to live in this lovely area of Galway I have been writing more than ever. A lot of the inspiration seems to be coming from my new environment. I just love living near the ocean and in the country side.
This area of coastal Galway is beautiful and every day as I walk my dogs, Sheba and Eppie, I see something else inspiring. For example, there are some fox holes and overgrown paths close to me and I can't help but think about how I could incorporate them into a children's story in some way. Nature provides much more than beauty, it also provides mystery and questions – always more questions. Unanswered questions are the basis of all good stories. Besides a fox, who, or what else could be hiding in these 'hidden' little places?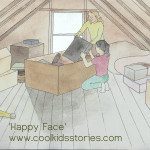 Right now I have been working on a new short story called 'Happy Face.'  I have just completed the editing and proofreading process.
The artist has finished the images for the interior of the book and I am now working on the cover. I have written a little more about the background and inspiration for 'Happy Face' here.