THE WITCH OF BALLYYAHOO
Witch stories are the best kind of stories. Especially if they are real stories, about real witches – like Biddy, The Witch of Ballyyahoo.
Lots of people think witches have long pointed noses to match their long pointed hats!  Well now, some witches do have long pointed noses and long pointed hats. Some of them have long pointed fingernails and long pointed ears. Some witches even have long pointed feet and shoes to match! Some witches look like this: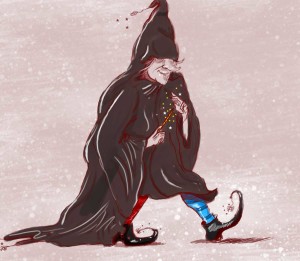 But, Biddy, the witch of Ballyyahoo, is very different. She doesn't have a long pointed nose, or a long pointed hat. She definitely doesn't have long pointed fingernails, or long pointed ears. She doesn't even have long pointed feet, or shoes to match!
Biddy doesn't have long pointed anything. In fact her face is a teensy bit round and her expression is kind and soft.
THE COOLEST WITCH IN THE WEST
Biddy, the witch of Ballyyahoo is not an ordinary, every day witch. She is the guardian of Ballyyahoo. She watches over the town and keeps it safe. Tiny little towns need a witch to keep them safe – especially secret little towns like Ballyyahoo!
Stories about witches often have a mean witch or a nasty witch. One who chops the legs off frogs and boils up spiders and crawlies to make a bad luck spell.
ACTION WITCH
Biddy, the witch of Ballyyahoo is neither mean nor nasty. In fact she is kind to everyone, except wicked people. If anything bad happens in Ballyyahoo she'll be there pronto!
What ever happens, Biddy, the witch of Ballyyahoo will help. With her magic tools and her magic spells, Biddy's the coolest witch in the west!
If you would like to know more about

Biddy the witch

and the special town of Ballyyahoo read:
THE WITCH OF BALLYYAHOO