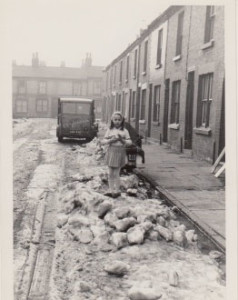 All of my best personal childhood memories are connected to nature. I was brought up in the inner city of Liverpool. Back then it was grey, grimy and covered in fog.
We went to school with scarves tied around our faces in the winter and spent a lot of time in bed recovering from the various illness that came from the lack of fresh air.
When spring came along the fog would disappear and the sun would shine away the grey.  Every chance we got we would go to our local Sefton Park.
Once there we would be able to play freely around the lawns, caves, ponds and lake. Left to our own devices we picked daisies, collected acorns, cones, cockles and collected helicopter seeds from the maple tree so we could throw them as high as we could and watch them twirl their way to the ground.
I remember my brother bringing home a bucket full of tadpoles and being amazed when I went out to the back yard one day and saw all these tiny frogs hopping around everywhere. Where did they come from and how did they get in our yard?
THE JOY IN A JAM JAR
When we got home from the park we would carefully place our 'loot' in jam jars, keeping them safe for making cockle dolls or acorn soldiers.
In spring we would collect twigs and place them jars to watch the buds grow. I remember wishing I could plant them in our six square feet of back yard. I saw a cherry blossom once in a garden at the back of my mother's friend's house and used to dream about having one in the yard.
My mother used to take me on squirrel watching walks to Freshfield in Lancashire. There were many things to enjoy about this trip. First the train itself was shiny and big, and extra exciting because it had pull down trays. Then there was the speed with which the trains moved and the contrast between the city it left behind and the countryside it entered.
Once we got to the woods we would search for the best tree. My mother always let me choose. It had to be big enough for shelter, have a soft floor for sitting and branches like arms – to make me feel safe.
Once we found our best spot we would sit down and have our picnic of fish paste sandwiches, a biscuit and a plastic beaker of diluted orange  (it was the seventies) it tasted like heaven – the secret sauce was fresh air.
Once we'd finish eating, my mother would place her finger to her lips and we would both go silent, and watch as the tame squirrels came nearer and nearer, seemingly as interested in watching us eating as we were in watching them eating!
FREEDOM
Every summer I would go on holiday to my Granny's house in Wicklow, Ireland – where my father was from.
We had a lot more freedom there. In fact we could go off in the morning on our bikes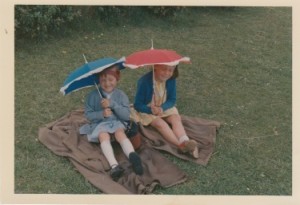 wherever we wanted – as long as we were back before the bongs of the Angelus signaled silence on the telly.
My cousin and I had a secret little river we went to It was about a mile away from my Granny's and we loved this place. We felt like it belonged to us because we never bumped into anyone else there.
We used to cycle the mile and eat the lunch our mother's made for us with our feet dangling in the river – believe me spam sandwiches with brown sauce taste great that way.
THE HUNT FOR GOLD
We searched for leprechauns and fairies, convinced they were there hiding, but without ever finding one, I'm sad to say. We also spent umpteen hours panning the river for gold with our uncle's garden sieve and strangely we had no success finding this either. But that didn't matter. The fun was in the search and we would always come back again, hoping that this would be the day the fairies decided to dance across the stones in the river, or the leprechauns showed up with a pot of gold!
Looking back now I realize that the pot of gold is in the rivers and lakes, the beaches and bays, the woods and the mountains – the pot of gold is the freedom to explore and enjoy nature. I so wish every child could experience that freedom too.