Football Mad is set here in Ireland where I now live. It is a funny story about a boy called Shane, who, if you haven't already guessed is absolutely football mad. He is desperate to get on his school football team but his coach says he's not good enough and that he needs lots more practice – especially his header technique.
Shane wants his parents to come out and throw the ball for him so he can practice heading it but they are just so very, very busy!
The other kids in school are starting to mock him and so Shane tries desperate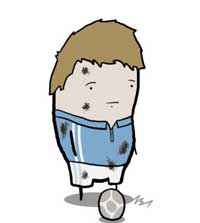 measures to get his parents to come out and help him practice his football. He manages to get some support from his Grandad and together the whole family come up with a solution.
'Football Mad' was originally commissioned for RTE One's children's radio and was subsequently broadcast on RTE Radio One as part of its weekly children's Fiction Fifteen series.
I adapted this story from the original radio version, especially for younger Kindle readers and for the parents who read to them. I have had great feedback from parents who read this with their children. They told me that they felt empathy with Shane's Mum and Dad, who although they really were good parents still preferred yoga and reading to playing football, especially after a hard days work!  After all there's no such thing as perfect parents, or perfect children. If there was what would we writers write about?
I hope you enjoy it reading this story as much as I enjoyed writing it.
Grace