FUNNY SHORT STORIES FOR KIDS FROM IRELAND
FOOTBALL MAD
I was commissioned to write 'Football Mad' for children's radio here in Ireland. It was then broadcast on RTE Radio One as part of its children's Fiction Fifteen series.
Football Mad is set in Ireland which is where most of my children's stories are set and by a funny coincidence is also where I happen to live – right at the end of this lane below.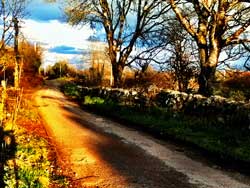 One of the things I most enjoy doing is writing dialogue, especially children's and I feel strongly that you don't really know who a character is, even one you've invented, until you've made them talk. Sometimes it takes time to find a voice for a character but once you do it's fun and they almost begin to create their own stories.  Once I've found a character's voice it remains with me for a very long time.
The images in Football Mad are the work of Brendan Hill of Evilhairday and you will find more of his wonderful art here.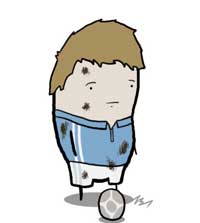 I really enjoyed writing this story and Shane's voice was great fun to work with. In fact I loved finding all the voices of the characters in Football Mad and it is one of those children's stories that adults seemed to enjoy as much as kids.
I think it is because parents feel empathy with Shane's Mum and Dad. They were busy and didn't want to be roped into playing football with their son. 

 They are good parents but there's no such thing as perfect parents or perfect children.
I adapted this story from my own original radio version, especially for younger Kindle readers and for the parents who read to them. I hope you enjoy it reading it as much as I enjoyed writing it.
Grace