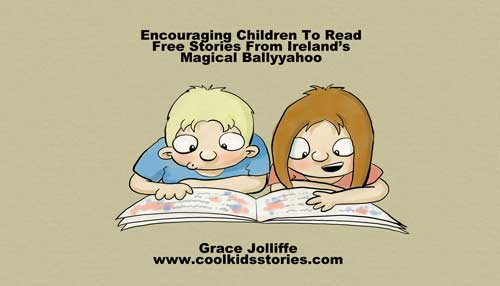 BUCKETS AND BATHS
If you ever come to visit Ballyyahoo, the first thing you'll notice is that everywhere you look there's buckets and baths.
There are buckets hanging on fences and some are perched on walls. When it's really stormy which is quite a lot of the time in Galway, you'll often see buckets blowing up and down the lanes.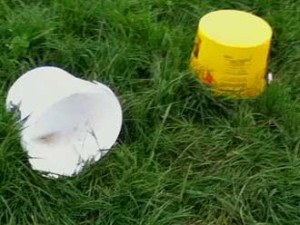 Still, someone always picks them up and puts them back on the fences and walls and sometimes that person is me.
The blue one and the pink one below were put there to feed those two horses you can see at the back of the field.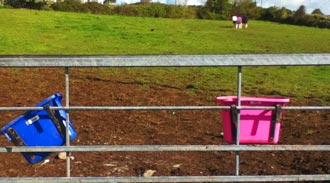 The new looking black plastic trough in the picture below is supplying water to the horses and the old upside down bath beside it would have been used by the farmer before he got the new black one.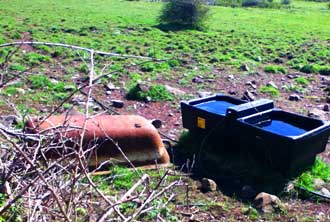 Some people are still using old baths to feed horses so you might see a lot of old baths around Ballyyahoo. Even though they may look like a messy load of old junk they're all doing something useful. Like feeding these thirsty horses. Two of these are Connemara ponies. They are tiny little ponies and we are so lucky to have a few of them in Ballyyahoo.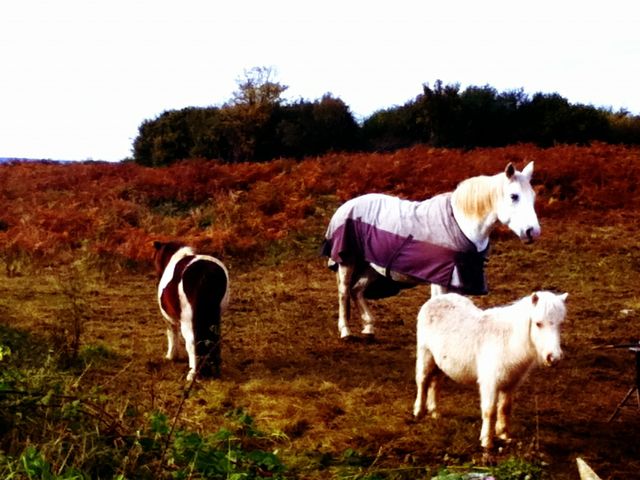 This trough below with the pipe sticking out is attached to a water system. The farmers in Ballyyahoo use these to bring water to the horses as well. Even though we do have a lot of rain in Galway it doesn't take more than a few days of sunshine for everyone to start worrying about running out of water. No wonder they worry – without water everything would die!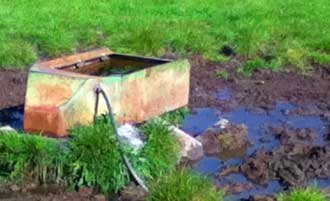 That's another reason why we're lucky we live in Ballyyahoo because round here there's water everywhere we go.
Back soon.
Lucy