Most people like Ladybirds. They are a sign that summer is here. They are quite beautiful and often look like tiny splashes of red against the green of a plant.
Gardeners like me love the way they eat some of the tiny mites that eat their vegetables. In the picture above, these two little ladybirds have taken up residence on the leaves of my kale plant – luckily I don't mind sharing!
I thought it would be fun to make some Ladybird stones. So here's how:
MAKING A LADYBIRD STONE
Collect some smooth oval-shaped stones.(you might need to go beachcombing for these)
Painting clothes.
Old newspapers or cardboard – to work on and keep surfaces clean.
Jar for water
Acrylic paints and brushes.
Varnish
Pencil

GET PAINTING
Carefully draw an outline of a ladybird on your stones.
Start painting – slowly and carefully.
It might be best to let the red area dry before you add the black spots.
Make sure all the paint is dry and apply several layers of varnish.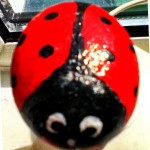 MAKE A LADYBIRD FAMILY
Gather stones of different sizes and when you are finished painting and varnishing you can group them together to make your own special little Ladybird family.
You could also paint some Ladybirds in different colours. If you would like to learn more about Ladybirds and see a variety of different types there is a great selection of Ladybird images here
I have always loved Ladybirds and have even included them in one of my stories, Free As A Ladybird. This particular short story is very popular, both with children and adults.

Free As A Ladybird was initially published in Ireland's Own magazine and later it was broadcast on RTE Radio.  It is now available as a Kindle book. In this story the Ladybird is a symbol of loving without control as well as letting go.