Hi! My name is June-Kelly-Walsh but you can call me June. I love art and craft and I especially love making things for Halloween. Now that Halloween is just around the corner, I thought you might like a little help carving your pumpkins.
Do you have a place where you keep all your craft things? A box, or a cupboard, or a basket? Any place where you can keep all your bits and bobs together. I have a special box and I call it my Bits and Bobs box. So, the first thing you need to do is run along to your bits and bobs place and take out: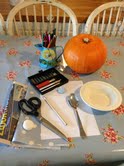 one adult (may come in handy for the carving.)

craft knife
paper
pencil
scissors
spoon
bowl
blue tac
tea light
candle

newspaper or oil cloth to protect surfaces.
PREPARING YOUR PUMPKIN
Cut the top off your pumpkin, put to one side for later. Now take your spoon and scrape out the seeds and all the gooey bits inside. Put it all in a bowl, just in case you want to use it for special effects.
MAKING YOUR PUMPKIN TEMPLATE
Take your piece of paper and draw your pattern on to it.
Take your scissors and cut out your pattern.
If this is your first attempt, you may want to keep it simple.
Stick your template on to your pumpkin with the blue tac.
Now draw on to the pumpkin. If you want you can be really clever and draw free hand, I think it's much more fun to draw freehand.
Now the fun begins…carving your pumpkin!
CARVING YOUR PUMPKIN!
You may need your adult to help with the tricky bits as your craft knife is very sharp and may slip. Be careful!
When you are finished, carefully place your tea light candle in the centre of the pumpkin and light it – then slowly replace the lid.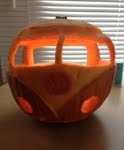 Always be careful with candles!
Have fun and see you soon.
From June x