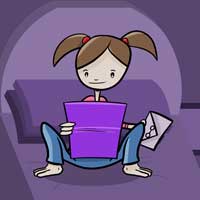 Most writers will tell you that it can be difficult to write in a room full of people, especially noisy people who want to talk to you. Most writers prefer to be on their own and in a quiet place to write.
Some writers find the life a bit lonely since few of us have a staff canteen where we can take a break and catch up over a coffee. I personally don't feel too lonely since I take a break to go for a walk every day and I meet and chat to people as I go. I also connect with people on social media so it all helps.
Another way writers can connect with other people is through letters from readers. I love getting letters from children – especially if they have read one of my stories and are giving me their honest opinion.
I received a letter from an eight year old girl who read 'The Tree Hugger,' my story about bullying in schools. I enjoyed it's refreshing honesty so much that as well as replying to her letter I also decided to publish it here.
I would love to publish a lot more letters from children so if you know any child who has read any of my stories and who would like to write to me I would love to hear from them.
The best ten letters will be published here on site together with my reply. I will also send a free story to the first ten young writers whose letter I publish.
Write soon.
Grace