CHILDREN'S LETTERS 
Children's letters are a real bonus to a writer. You see, writing stories is something you usually do when you are alone. It can be hard to write in a room full of people, especially noisy ones who want to talk to you, so most writers prefer to be on their own to write.
Children who want to be writers when they grow up needn't worry though, because when you are writing you don't feel as though you are own.
In fact, you never feel lonely when you are writing. You have all the people you create with you when you write, and you can create as many people as you want.
Your creations don't have to be people either! They can be animals, aliens, or even a few monsters and ghosts, if you like. You can make them as scary as you want as well. The great thing about that is, that you won't be scared yourself, because you'll know they're only made up – by you.The most important thing is that you write a story that you enjoy writing.
Writing stories at home is not like writing in school because there is no teacher around. You can write whatever you want and you can write whenever you have free time to do it. That's one of the reasons I loved writing when I was little. One of the other reasons was that I really love making things up and I still do now.
Another one of the things I love about writing is getting letters from children who have read my stories, especially if they liked them.
Recently, I have been really lucky because some young readers have written me letters after they read my new stories. I have so enjoyed reading these letters that I decided to publish them here.  I hope you enjoy reading them as much as I did and I'm keeping my fingers crossed I get lots more letters.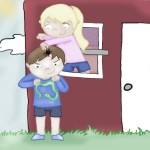 CLICK HERE FOR CHILDREN'S STORIES