LADYBIRDS OR LADYBUGS

I am often asked why ladybirds feature in my stories.  Not just in 'Free As A Ladybird' I have also had them fluttering around some of my other stories as well. I even made a Ladybird image in a stained glass workshop I attended recently which you can see below: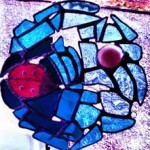 The simple answer is that I just love ladybirds and I always have. I love their bright beauty and I love they way they can suddenly open their backs and rise up into their air like little red helicopters.

It doesn't matter what else is happening in the world, or in my life, the first sight of a ladybird in summer always gives me a feeling of joy.

I very much enjoy gardening so I am always happy to see Ladybirds around my plants. Here's one just arrived to help out in my vegetable garden.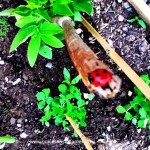 You see Ladybirds don't just look pretty; they do important jobs in the garden. They eat aphids and other tiny creatures that would otherwise be feasting on our plants.
Ladybirds are known as Ladybugs in the US but they have another name – Coccinellidea. They come from the small beetle family and can be red, yellow, or orange, although there can be other colours too. There is more information here on Wikipedia.

Here in Ireland we mostly see the red variety like the ones on this biodiversity website.
I hope you like Ladybirds/Ladybugs as much as I do! If you do you can find out about my story '

Free As A Ladybird,' here.